Organising a funeral is tough. When you're feeling sadness and stress your emotions can easily cloud your judgement. While hiring a funeral director can certainly make the process more bearable, the firm you choose will have a huge influence over the proceedings. Here are a few pointers that'll help you make the right decisions when that inevitable time comes.
Decision Making
The deceased's next of kin usually takes on the responsibility of decision making, and choosing a funeral director is often the first step. If you have been to a funeral in the past that has ran like clockwork, consider getting in touch with relatives of the deceased and asking for advice. Unfortunately you probably won't have the time to be overly selective so if you already have a good lead, it's definitely worth pursuing. There will probably be several companies in your local area, but due to the very premise of their business you may not have even noticed them before. It is vital that you are on the same page with your funeral director with regards to the creative approach; therefore, you should always arrange a meeting before you sign a contract. If you aren't comfortable using their services after this initial consultation look elsewhere.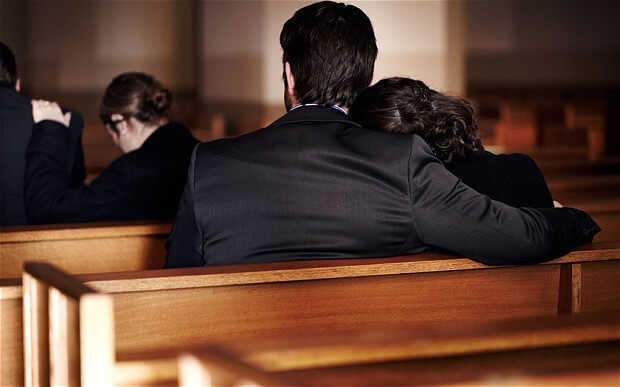 Image Credit: Telegraph
The Job Role of a Funeral Director

The funeral director will take care of the body, coffin, viewing of the body, and all the paperwork/legal requirements on your behalf. They will also take you through your options regarding the venue and ceremony, such as the time schedule, hearse rental and coffin purchase. Even if you commission a funeral director it doesn't mean that you'll have no responsibilities.
Funeral directors will fire plenty of questions your way and since you're time will be limited it's probably best to prepare your answers in advance. A good funeral director will come to your residence for a Q and A before they begin making arrangements. Sitting in the comfort of your own home eases the pressure somewhat, so if the funeral director you're considering isn't happy to do this, move on.
Funeral Director Governing Bodies
Perhaps the most important step to take when searching for a funeral director is to check that they are a member of the right governing body. There are two official organisations:
· The National Association of Funeral Directors (NAFD)
· The National Society of Allied and Independent Funeral Directors (SAIF)
Funeral directors that are members of these associations are obliged to meet certain industry specific standards in order to maintain their badge of honour. They will have an established complaints procedure as well as a broad range of services in various price ranges. If in doubt give one of these companies a call and ask for feedback.
Prices
Unfortunately not everyone has the finances to arrange the perfect send off. Price will be a huge factor when deciding which funeral director to choose. According to Money Advice Service the average UK funeral director costs £1,600-£1,800. This includes the storing of the body, coffin purchase, hearse rental and staff. Other optional services (outlined below) are calculated individually.
Other disbursement costs are always applicable, but will vary depending on whether you choose a burial or cremation. This could include doctor's fees, burial ground fees and general memorial expenses (priest, minister, etc.). Know that these costs will appy are
The NAFD and SAIF have pricing standards that funeral directors must abide to. If a firm goes above a certain (publically unspecified) threshold they will lose their membership; therefore, if you have suspicions about a firm's pricing structure or payment procedures, consult their governing body before you make the first payment.
Financial Aid
Support is available if you or the deceased's estate won't cover all of the funeral expenses. In the UK The Social Fund awards cash sums of up to £700 to those on income support or other credit schemes that are only given to low-income households. In addition, bereavement benefits of up to £2,000 may also be attained in special circumstances.
Most funeral directors will expect you to cover all of the disbursement costs and optional expenses up front. However, you should be given the option to pay their fees as a later date, usually within 30 days of the ceremony. Payment plans are often available; however, timescales can vary according to the firm. Before you make your decision make sure that you understand their rules and regulations to prevent any legal disputes in the future. Funeral directors will understand your situation and may adapt to accommodate your needs, so don't be afraid to ask them to make amendments to their standard funeral packages. Just make sure any changes are clearly outlined in the contract agreement.
Buried or Cremated?
Buried or cremated? This is one of the biggest decisions you must make. If the deceased has made implicit instructions, either verbally or in their will, you should morally abide by their wishes. If a loved one has said they want to be buried, but you cannot bear the thought of seeing them lowered into the ground or if you don't have the funds (cremations are generally cheaper) only you can decide what's right. You are under no legal obligation to follow their wishes, even if they have been written in their will. While it's not part of their job description your funeral director can certainly help you make the decision easier by giving you a breakdown of the pros and cons of each procedure.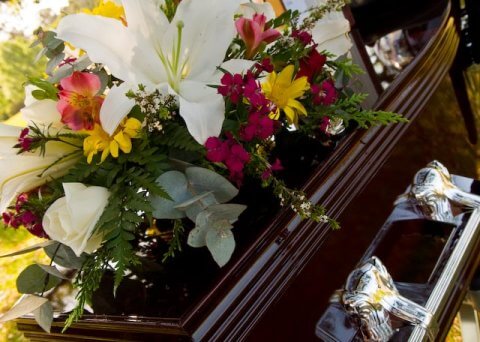 Image Credit: My Withers Radio
Fundamentally your goal is to hire a funeral director that can take the weight off your shoulders without taking creative control. You'll be entrusting them with decisions that could bare a significant impact on your life and the way in which the deceased is remembered; therefore, don't be afraid to seek something deeper than a "business" relationship.
Optional Services
By preparing for your Q and A well in advance you'll be able to make a more informed decision when you're having that all important meeting. Make sure you're as detailed and specific as you wish and don't let your funeral director pressure you into making choices you don't want to make.
Order of Service
This is really your job. While the funeral director will make the arrangements and ensure the event follows religious, legal and personal guidelines, it's your choice to set a path. Getting this right is important, as it is for you to decide the appropriate way the funeral will be conducted for the deceased. For example you may decide between a 'celebration of life' type funeral, or whether you feel it should be conducted in a more formal manner. It is usually at this point in the planning process that that underlying tension with the rest of the family finally explodes in that wonderfully dysfunctional way which only the death of a loved one can inspire. Even if you're an ardent control freak prepare to make a few compromises. If the only things you don't agree with are the hymns and the type face in the booklet you are off to a good start.
The Eve of the Funeral
It's very common for close friends and family to meet up the night before the funeral to try and release as much grief as possible. Spending the night before talking, crying, laughing, grieving and consoling can make the actual funeral a lot easier to bear. For want of a better term it could be described as a team bonding session before you put on a united front for the rest of the congregation at the actual event.
Flowers
The traditional doyen of funerals is withering. Funeral flowers are expensive and can take a significant cut out of your funeral director expenses. If you don't have the excess funds consider asking your guests to bring flowers with them instead. If you know the deceased was not too keen on flowers altogether, ask your guests to donate the money they would have spent to a charity of your choice.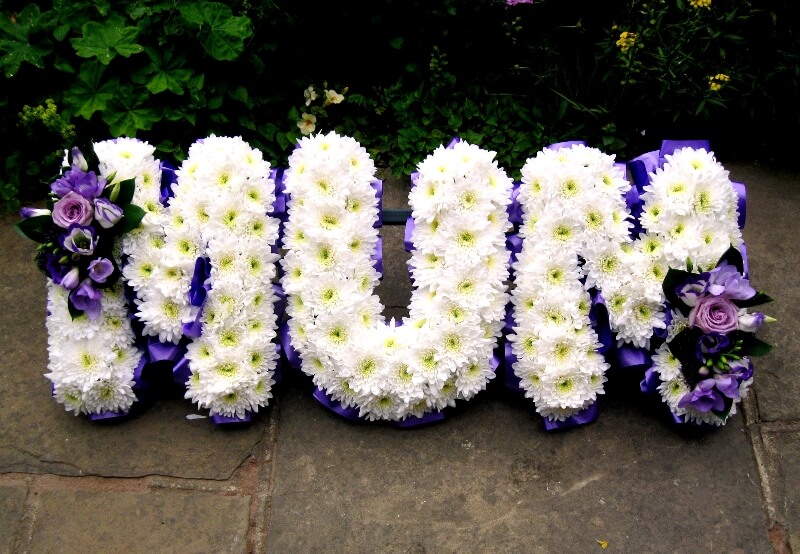 Image Credit: Natasha Coustol Floral Designs
One large bunch of flowers will produce enough blooms to easily cover the top of the coffin. If there is a special something the deceased always had with them it can also be a nice touch to put that on the top of the coffin too.
On the other hand, if the funeral is for somebody who was obsessed with their garden personalise your bouquets to create something that they would love. Remember to take seasons into account. For example, if they passed away in the spring you can surround them with little pots containing daffodils. These can then be taken to the wake and given to guests to take home so every time they look at that flower they will be reminded of the deceased.
Funeral directors build very strong relationships with local florists and will often have discounted rates if you buy through them. While this may cost extra, it could save you a great deal in the long run, so if you plan on having a lot of flowers, remember to discuss rates during your meeting.
Booklet or Keepsake
As some kind of booklet is the norm these days and will contain the agreed order of service, you can use it to inject a bit of humour into the proceedings if the deceased was known for their wit. If the deceased was very austere then the booklet should reflect this, whereas if it is in memory of somebody who loved life and embraced every minute then this can be a party on the pages. Whatever you choose to go with remember that everyone that attends will be looking at it for a long time so it needs to be special. Ask your funeral director to bring some samples from past events to your consultation.
The Eulogy
Delivering the eulogy a huge honour and should be conducted by somebody who was close to the deceased. It's a massive responsibility to sum up a person's entire existence in 5-10 minutes, but funeral directors can offer some pointers if you or your chosen speaker is struggling. Delivering the eulogy is a huge responsibility that can seem quite overwhelming. By offering this person as much support as possible you will help them to not only put together a touching eulogy which everyone in attendance can relate to, but help them quell those nerves.
Hiring Funeral Cars
There has been a growing trend in recent years to completely cut out the traditional black funeral cars. Most funeral directors will still, however, provide this service as standard. Furthermore, it is strongly advised that you take into consideration whether or not you personally can manage driving on the day. It may be a wise choice to nominate a driver who will not be distracted by grief. This will ensure a safe journey for yourself and anyone travelling with you.  It is also noteworthy that renting a hearse can also take a sizable chunk of the budget. Remember that this funeral will be an emotionally  strenuous event, so feeling as relaxed and composed as possible is a must. If you don't want a hearse, make it clear from the beginning so you can get a reduction on your fee.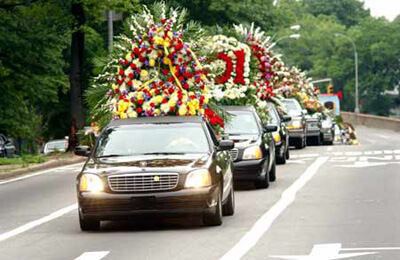 Image Credit: Cremation Solutions
Coffin Decorations
This broad term simply describes; that special something on top of the coffin which you immediately associate with the deceased. For example, a lady known for her collection of hats could have her favourite design resting on top of her coffin and the others hanging on the ends of the pews. There really is nothing more depressing than sitting a few feet away from a wooden box containing someone you knew and loved. Even a small coffin decoration will add that little touch that'll make you and your guests smile, rather than bring on a fresh bout of tears. Funeral directors can help you select a fitting tribute if you're lost for ideas.
Choosing the Music
If you are having the cremation with the actual service at the crematorium you will be able to choose all the music and give it to the funeral director or celebrant to play when appropriate. If you opt for a church service, before the burial or private cremation tell the funeral director that you have specific musical wishes so they can coordinate with the priest.
Funerals commonly have one song on entrance, one on exit and one during the actual service. In the past a hymn was the norm; however, nowadays people tend to lean towards a contemporary piece of music that was known and liked by the deceased. While this tends to be just a simple CD playing you can make this as understated or bold as you want. If you ever heard the deceased say "I love this song I want it played at my funeral" then brilliant, they have saved you from making the decision. Then again, if that tune was Another One Bites the Dust you may have to consider whether or not they were joking or if it was their way of injecting some humour into the proceedings. A bit of tact and diplomacy may be needed here if you don't want to offend guests, but then again if they knew someone well enough to attend their funeral they should also know their musical tastes and personality.
If you want to take a completely different road and have a live band playing visit Last Minute Musicians. This website is a godsend for finding quality musicians quickly. Regardless of which route you take it's imperative that you coordinate your decisions with the funeral director so they can prepare the venue and ensure everything keeps on schedule.
Choosing Decorations
You definitely don't want to spend time decorating a church or crematorium when you have more pressing matters to attend to, and even if you were allowed, it would all have to be taken down in time for the next service. Decorations should be kept to a minimum – a large photograph, flower, etc. – the venue for the wake is a different matter as that can be used to tell the story of the deceased through pictures of their life. Supersize them, print them off, and Blu Tack them to the walls. This will evoke fond memories and allow mutual friends who have never met before to strike up a conversation. Ask around old friends and other members of their family to see if they have any pictures from the deceased's youth, or any unusual or funny snaps which have never had an audience before.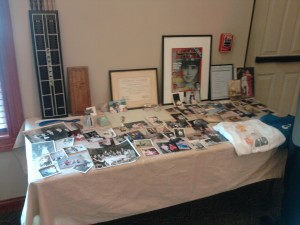 Image Credit: Next Gen Memorials
If you are holding the wake in a venue that has a big screen you could even show videos of the deceased or show their favourite film. Laying soft back ground music is common and the addition of such simple extras as fairy lights and candles give the perfect ambiance for laughter and reflection as you join together to celebrate a life well lived.  If you aren't sure what's suitable or need to know if there are any restrictions with the venue get in touch with your funeral director
Catering
Once the service is over, all the words of condolence have been spoken, tears have ceased to flow and the last strains of music have been left behind its time for the wake. Stick to simple food and either get the venue holding the wake to host or ask others to help. Don't try to do this yourself on top of everything else, it won't turn out well; sandwiches, quiche, hot soup, tea, coffee and alcohol is the order of the day. Remember a funeral is not like a wedding; this is just a light snack rather than a banquet. Funeral directors can arrange catering on your behalf for an extra fee. They may also have connections with local catering companies so remember to make enquiries when you have your initial meeting.
While these optional services may not seem typical, whether or not your funeral director can provide them could make a huge difference, especially if you're finding the death just too much to handle. Fundamentally, if they really aren't flexible or can't provide a satisfactory amount of options, don't use them.
Conclusion
There is no law requiring the use of a funeral director. In fact, more and more people are now beginning to conduct the entire service themselves due  to economic or personal reasons. If you don't have any experience, it is strongly recommended to seek professional advice. Funeral directors are professionals, and a good funeral director will ensure you have as much creative control as possible and may be happy to take on a less prominent role, even if it's not advertised as a service.
Warning!
There are some topics that shady funeral directors will try avoid, so if you're happy with their pitch remember to ask:
· What is the final price? You should always be given a written breakdown before signing a contract.
· Are all of these services required? You could lower costs by taking on some of the responsibilities yourself, so make sure you have the option.
· Can I use services that you don't usually go through? Funeral directors often partner up with specific florists and drivers, etc., in order to send each other business. If you have your own plans make sure you can change them.
Unless the deceased was very young or died in horrific circumstances it is possible to pull together a funeral that's an extraordinary, intense, memorable, vital, moving and passion filled day of both remembrance and celebration. When you look back at a funeral you should have a smile on your face as you recall fond memories of the good times. If you have any doubts whatsoever about your funeral director simply move on and look elsewhere. There will almost certainly be plenty in your local area and it may take a few meetings before you find a firm that you feel comfortable using.