What is a humanist funeral?
A humanist funeral is a non religious funeral service that usually combines both the mourning of a traditional funeral and more contemporary notions such as a celebration of the deceased's life.
Some humanist celebrants do not permit any religious elements in the funeral ceremonies they organise. Others incorporate religious content, such as hymns, that the deceased held dear for personal rather than religious reasons. Either way, the ceremony will contain no worship, religious readings or prayers of any kind.
What are the advantages of a humanist funeral?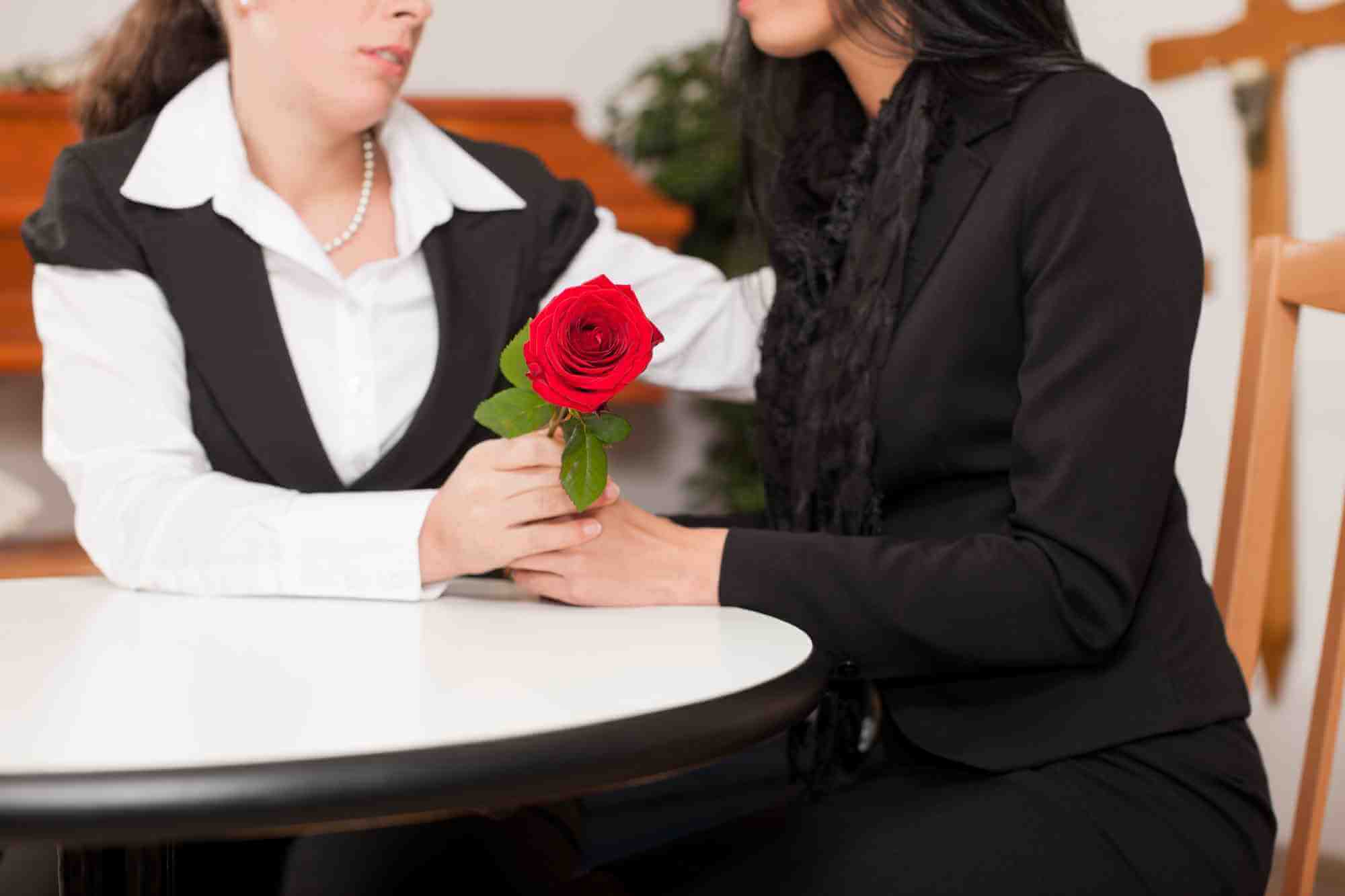 A humanist funeral allows for a much more customised and personal service that does not adhere to the strict traditions of many religious funeral ceremonies. For this reason a humanist funeral service is a good choice if you would like the occasion to be a remembrance of the deceased.
It is also easier to plan your own service before death, as the humanist funeral model allows for greater individuality than a church or other religious funeral.
It can be very distressing for the friends and family of the deceased to feel that the funeral is not an accurate reflection of their loved one's personality or the way they lived. A humanist funeral allows friends and relatives of all faiths to come together and celebrate the person's life without excluding anyone on religious grounds.
The secular nature of a humanist funeral also avoids the likelihood of sentiments such as 'They're in a better place now', which the deceased and/or their family and friends might find uncomfortable if they are atheists.
Do you need to be a humanist to have a humanist funeral?
Humanist funerals are in no way restricted to those whoidentified themselves as humanists in life. In fact, the majority of humanist funerals are held for people who did not.
A humanist is defined as someone who:
trusts to the scientific method when it comes to understanding how the universe works and rejects the idea of the supernatural (and is therefore an atheist or agnostic)

makes their ethical decisions based on reason, empathy, and a concern for human beings and other sentient animals

believes that, in the absence of an afterlife and any discernible purpose to the universe, human beings can act to give their own lives meaning by seeking happiness in this life and helping others to do the same
Therefore, even if the deceased did not apply the term 'humanist' to themselves, if they were not religious it is likely that they fell into this category and a humanist funeral would be a fitting way of paying respects.
Likewise family members or friends of the deceased who don't identify as humanists or who belong to a different religion are nonetheless welcome at a humanist funeral.
How to organise a humanist funeral
As humanist funerals are led by accredited humanist celebrants, your first step is to contact one and discuss the plans you have for the funeral. They will be able to help you to make all necessary arrangements and use their experience to make some suggestions as to the service.
If you would like the funeral to incorporate some religious elements, such as a hymn or religious poem that had some personal significance to the deceased, ensure that you check this with the celebrant you have chosen to ensure that this will be possible.
A humanist funeral often incorporates green or eco-burial elements, such as biodegradable coffins and/or the decision not to embalm the deceased. In such cases the service should be organised promptly – it usually takes place within 48hrs of death (especially if the wake is to be open-casket) or within 10 days if the body is refrigerated.
Where can you hold a humanist funeral?
Humanist funerals can be held in a wide range of settings. Traditional options include burial sites such as cemeteries, crematoriums or woodlands.
You can also opt to have the funeral take place at an entirely different location – such as a public building, a place special to the deceased, or the home of a family member or friend – and then transport the body to the place of burial or cremation afterwards. This post discusses the costs associated with burial plots.

What is a humanist funeral order of service?
Humanist funerals are highly individualised and family members and close friends can design the ceremony however they feel would best reflect the character of the deceased.
Humanism.org provides an example of the structure of a typical humanist funeral as a guideline for those considering one:
Introductory music

Words of welcome

Thoughts on life and death from a non-religious perspective

The tribute – an outline of the life and personality of the person who has died

Readings of poetry and prose

Reflection – a few moments for private thoughts about the person who has died, either in silence or accompanied by music

The committal – when the curtains are closed or coffin lowered

Closing words – including thanks on your behalf

Final music
What to wear to a humanist funeral
Because this will be a non-religious funeral service, there is no need for highly formal mourning clothes unless you specifically request them.  It is more common for those who attend to wear semi-formal or casual clothes.
If the humanist funeral incorporates elements of a celebration of life ceremony, as many do, attendees may wear clothes of the deceased's favourite colour, bright cheerful clothes or even formal party wear. It is common to request that mourners don't wear black.
If you would like a humanist funeral to be a sombre affair, this is perfectly possible. In this situation, however, it is common for humanist funerals to also incorporate a wake. If this is at a later date, each event generally has a different dress code, with the wake being more casual and informal.
If the funeral is taking place in an outdoor location, such as a woodland burial site, take into account the weather and wear an appropriate outfit for walking through the woods. In such circumstances impractical formal garments such as tight-fitting skirts or shoes with narrow heels should be avoided.