Christian funeral rites
Anyone who lives in England technically resides within a parish and can therefore have a Church of England funeral, regardless of whether they were a member of the church or attended services in life. As a resident of England, even an atheist is entitled to be buried by the church.
A Christian funeral may take place in a church or chapel but this is not compulsory. Christian ministers preside over funerals held at crematoriums, woodland burial sites or at the gravesite in secular cemeteries – provided a minister can attend, the site of burial or cremation is considered holy.
The traditional dress code to a Christian funeral is black, but sombre dark formal wear is appropriate in modern Christian ceremonies. If the deceased or their family requested alternative clothes – such as a bright, cheerful outfit or clothes of a specific colour – this is acceptable to Christian beliefs but will be clearly stated on the funeral invite.
If the funeral takes place at a church, crematorium or other building the minister will greet the coffin and pallbearers at the door and welcome them. They will then lead the procession into the building, reciting from the Bible.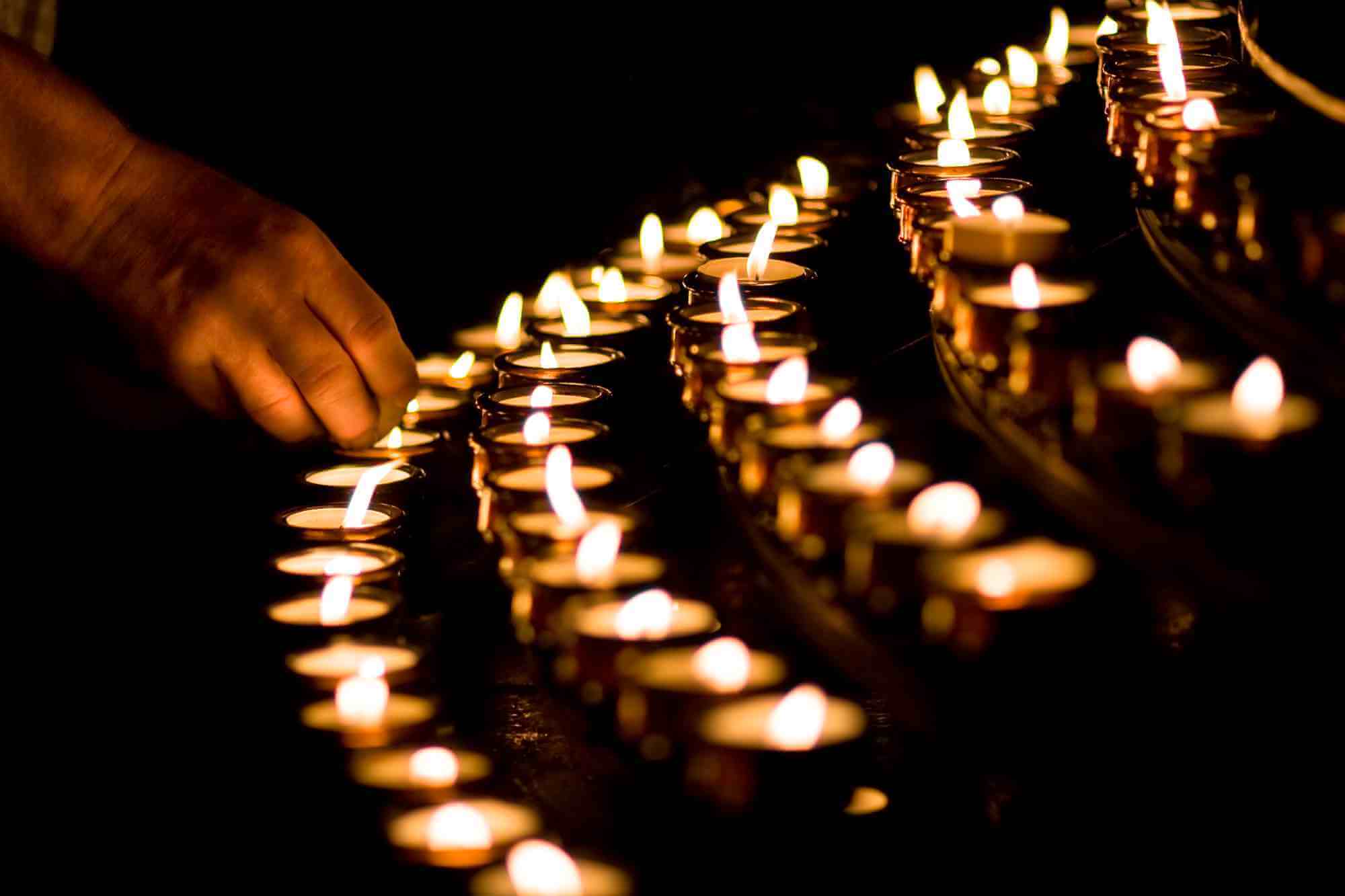 Unlike other Abrahamic faiths, which generally have impersonal funerals, Christian funerals can be highly personalised. Family members, friends and even the minister can read eulogies and poetry and sing or play secular songs alongside the traditional hymns, prayers, sermons and readings from the Bible. The individual elements of a funeral service are very important to Anglicans. If you are arranging a Church of England funeral, someone from the church will come to you beforehand and discuss the deceased, who they were and how you would like to commemorate them.
If the deceased was not a Christian, the minister may also recite a prayer for the unlearned:
'God of infinite mercy and justice, who has made man in thine own image, and hatest nothing thou hast made, we rejoice in thy love for all creation and commend all mankind to thee, that in them thy will be done.'
Practicing Christians may also wish to have the ritual of Holy Communion included in their funeral service, or in that of their deceased loved one, but this is not usual or mandated by doctrine.
Non-Christians need not participate during prayers, hymns or Holy Communion and can sit quietly and respectfully while these rituals take place. However the Church of England and many other Anglican churches do not prohibit non-Christians from joining in and may even encourage them to do so if they want as a mark of respect to the deceased.
What does a Christian burial involve?
Although burial is more traditional, most Anglicans support cremation. If the deceased was a practicing Christian, however, the ashes are normally kept together – interred, in a columbarium or at home, rather than scattered. This is due to a belief in bodily resurrection at Judgement Day.
If a burial or burial of ashes is taking place, the minister will perform a committal ceremony as the remains of the deceased are lowered into the ground. Prayers that focus on the immortal soul and the afterlife will be read or recited. The minister will conclude the committal by praying for the soul of the deceased and reciting the ubiquitous 'ashes to ashes, dust to dust'.
After the ceremony is over, mourners can light candles as a sign of remembrance of the dead. There is no official mourning period for Christians, but the family and friends of the deceased may return to the church periodically to pray and light more candles.
Christian funeral ceremonies are normally followed by a reception, but these are highly individual depending on the personalities and lifestyles of the deceased and their family. It is generally traditional to bring gifts of flowers, food and sometimes alcohol.