Thinking about what to wear when grieving especially if is a traditional or strictly religious occasion, it is important to attend a funeral dressed properly. While it may be difficult to think about such things, appropriate funeral dress can be a comfort during a painful experience.
What to wear to a funeral (traditional)
The classic funeral attire for women is a black dress, although in the modern day dark charcoal or navy may also be worn. It is less common to wear dark olive or aubergine but these are also acceptable. Ideally your outfit will be plain or have a very muted pattern.
Although a dress or skirt is the most traditional option, it is also usual now for women to wear trouser suits to funerals, accompanied by a classic shirt or blouse in black or white. Only the most conservative would object to a woman dressed in a  smart trouser suit. Always accompany a dark dress or skirt with black tights.
Keep makeup neutral. This is not the time for dramatic contouring or nightclub makeup. Foundation, a nude lipstick and minimal mascara, eyeliner and blush are perfect. Make sure that your eye makeup is waterproof to avoid emergencies.
Jewellery should be elegant and low-key. Pearl necklaces, tennis bracelets and simple drop earrings are perfect. If the deceased gifted or willed you jewellery, it can be a tender gesture to wear it at their funeral.
It is acceptable for women to wear large sunglasses at graveside funerals. It dates back to traditions of wearing a veil to shield the face when grieving. However, sunglasses should not be comically oversized or dramatic, and should have dark-coloured lenses.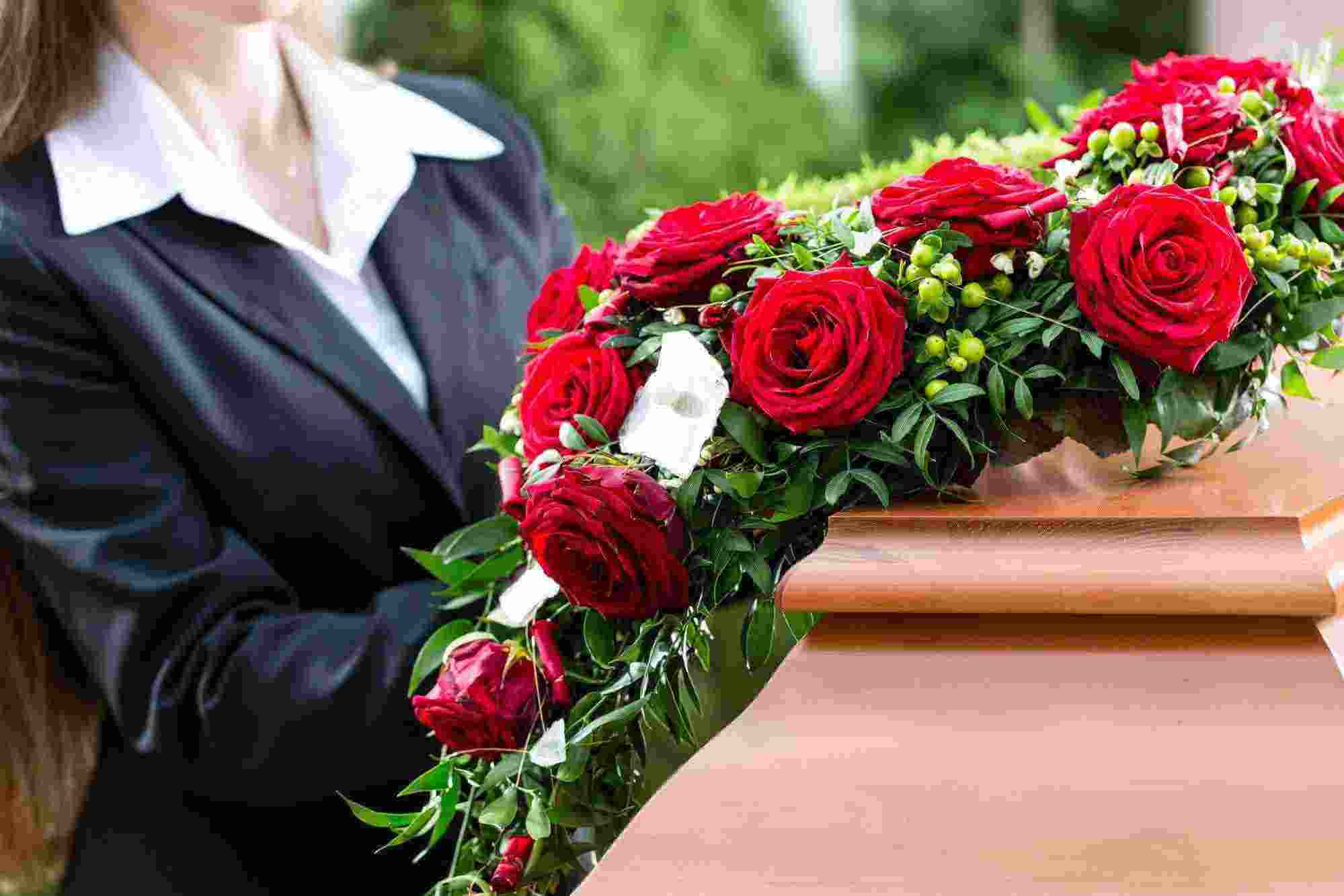 What to wear to a funeral (religious)
If you are attending a religious funeral it's important that you speak to the hosts to clarify what is appropriate to wear if you are not a member of that faith yourself and aren't sure.
Though black has been the standard mourning colour in the West for centuries, it's far from the global standard. White is the preferred colour of mourning in many Asian religions, including Hinduism and Buddhism, and should be worn to funerals of those faiths. Wearing any red at a Chinese funeral, including lipstick, is highly offensive as red symbolises happiness.
Although modest dress is expected at most funerals, this can reach extremes for women in traditional religious services. Women attending Muslim funerals should wear an ankle-length skirt, a long-sleeved top with a high neck and cover their hair. Women at Sikh funerals should also cover their heads and be prepared to remove their shoes before entering the gurdwara.
What not to wear to a funeral
There are few things that should never be worn due to the highly personalised nature of many modern funerals, but broadly speaking there are items of clothing to steer clear of.
Bold patterns are not appropriate for funerals and should be avoided. Keep skirts and dresses to the knee or below and avoid bare legs in general to keep your look formal. Avoid anything sparkly, fringed or sequined – this isn't a party.
Do not wear trainers. It's also best to avoid open-toed shoes, even smart heeled ones. Wedge shoes are acceptable only if they're very low-key – no platforms. It is also wise to avoid shoes with slim heels, particularly if the funeral is graveside as they will sink into the earth and make walking difficult.
Exceptions to any of these should only be made if specifically requested on the funeral invite. If the deceased is a child, for instance, their loved ones may ask mourners to wear bright or cheerful clothes, or outfits in their favourite clothes. Outdoor funeral or memorial services may also necessitate more practical clothing – ask the hosts to make sure.