Funerals don't just place a significant amount of strain on your emotions, but also your bank account. Paying for a funeral can cost thousands of pounds, and while the finances come out of the deceased's estate, there's not always enough money to cover the fees. Paying for the costs using a finance plan is one option, but over time you'll still have to pay a substantial amount of money; therefore, this may not be possible if you're on a low income. A grant can lift some of the burden off your shoulders and give you a little more legroom. Even if you're convinced that you're ineligible, it's always worth trying.
The Social Fund
The Social Fund should always be your first port-of-call. This UK government run scheme offers help to those who have a low income. If you or your partner receives some form of benefit or tax credit, such as Jobseeker's Allowance or Income Support, you'll probably be eligible for something, even if it isn't the full amount.
The maximum allowance you can receive is £700 and you must apply within 3 months after the funeral takes place. If you have paid for the costs of your funeral already the money will be transferred directly to your bank account; while if you're still in the midst of paying a funeral director, it'll be transferred directly to them.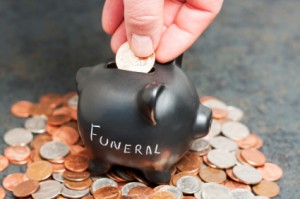 Bereavement Payment
Bereavement Payment is a one-off tax free sum of £2,000 that is paid to you if your spouse or civil partner has passed away when were under the State Pension age. In order to qualify they must have paid the right amount of National Insurance contributions. If they hadn't you may not be entitled to the full amount.
Widowed Parent Allowance
If you are a parent and your spouse has died, you may be entitled to a grant known as a Widowed Parent Allowance if you apply within three months after the death. To qualify you must currently be supporting children, under the State Pension age and entitled to Child Benefit. In addition your spouse must have paid enough National Insurance contributions.
Charitable Organizations
There are a number of charities in the UK that may provide funeral grants to those in need.  Most charitable organisations will require you to have at least attempted to recover money elsewhere before they release any funds. Grants may also vary depending on your circumstances and relationship to the deceased. In order to qualify you may have to divulge your personal information and save the receipts regarding the payments that you've already made.
Receiving a grant will count towards your savings; therefore, if you're required to have under a specific amount of money to qualify for other benefits – such as Jobseeker's Allowance and Housing Benefit – your payments may be affected. If this is the case it may be more beneficial to pay for costs over time, rather than receive a fixed lump sum.
When a death has occurred the last thing you'll want to worry yourself with is application forms for funeral costs. However, taking a little time out of your schedule to focus on the financial aspects could significantly help you in the long run. It can take time to receive a decision, let alone the costs; therefore, the sooner you start the application procedures the better.
See here for more information on help for funeral costs